What to Expect at a Hearing Test
A hearing evaluation is the first step toward identifying and treating your hearing needs.
Our practice offers comprehensive hearing testing that effectively assesses your hearing health. There are different types of hearing tests we use to thoroughly evaluate and understand your hearing loss. Our experts have extensive experience and utilize the latest hearing technologies to accurately determine your hearing health needs.
Hearing tests involve a painless and noninvasive process that measures your hearing capacities in both ears. Once we identify hearing loss, we tailor treatment to meet your specific hearing needs. Understanding what this process looks like can help you feel more prepared and comfortable with having your hearing tested.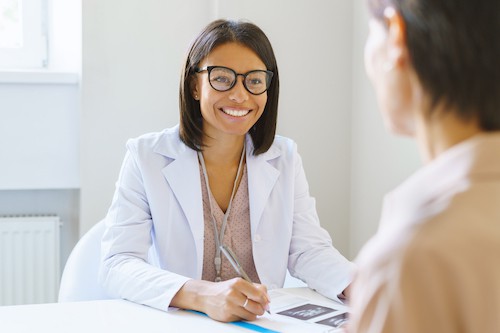 1. Intake Process:
Like most medical-related appointments, your hearing consultation appointment will start with an intake process. You'll be asked to complete some paperwork about your health history and the symptoms you are experiencing. You can expect to have a conversation about any family history of hearing health issues, the hearing challenges you've been experiencing, and lifestyle factors that impact hearing health. This includes what you do for work, the types of environments you regularly move through, exposure to loud noise, hobbies, and other factors that can help identify potential causes or contributors to hearing loss.
2. Physical Examination:
Before the hearing test, your ears will be physically examined. This includes using an ear instrument known as an otoscope which shines a light, allowing us to fully examine the ear canal and eardrum. We inspect your ears and check for any factors that could obstruct sound from being fully absorbed and reaching the inner ear. This includes accumulated earwax, a tear in the eardrum, any growths, ear infections, etc. which can prevent sound waves from traveling through the ear canal to reach the inner ear. If needed, we'll remove any earwax before getting started with the hearing test.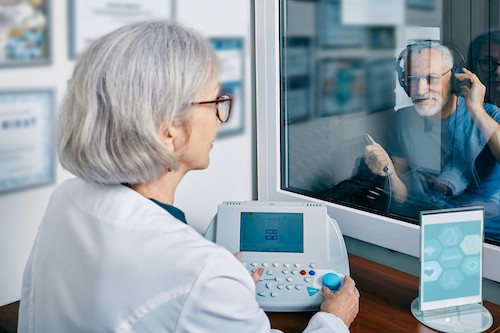 3. Hearing Tests:
There are a few types of hearing tests that are used to evaluate hearing health. The most common test is known as pure tone audiometry testing. This involves wearing headphones in a sound-treated room that are connected to an audiometer - a small machine that plays sounds at different frequencies and pitches. Guided by one of our hearing healthcare specialists, you will indicate what you can hear by raising your hand or pressing a button. This will record the softest sounds you can hear at different frequencies - referred to as your hearing thresholds. Another test that we may perform is similar but rather than playing sounds, speech is played. This is known as speech audiometry testing which evaluates the speech you can hear.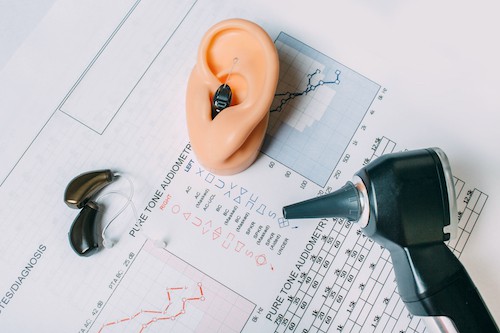 4. Results:
The results from your hearing test(s) are recorded on an audiogram which is a chart that visually shows your hearing capacities in each ear. We take the time to walk you through your results which include the softest sounds and speech you can hear (for each ear which may be different) and the types of sounds and speech that are more challenging for you to hear. Your results will identify any hearing loss and the specific degree of impairment you could be experiencing - ranging from mild to profound. With this information, we can discuss specific treatment options that can best support and maximize your hearing. The most common treatment for hearing loss is hearing aids. We will share options that can be optimal for you and discuss the devices and technologies that you could benefit from.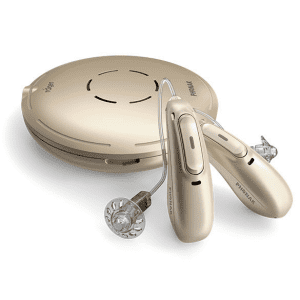 5. Next Steps:
Depending on the type of hearing aid you choose, we may take impressions of your ears which are then used to make certain styles. After your hearing aid consultation, the follow-up is a hearing aid fitting appointment. During this appointment, you will receive your hearing aids which will be programmed with the specific settings that can best meet your hearing needs. During this appointment, you will learn everything about your hearing aid - maintenance, settings, components, etc. Our goal is to provide you with all of the training, information, and resources that allow you to maximize the use of your hearing aids.
The hearing evaluation process is a major step toward treating and transforming your hearing health. Contact us today to schedule an appointment. We look forward to helping you prioritize your hearing health and wellness!
Contact Us
Steven Lopez
November 5, 2021.
I had been able to obtain hearing aids from other resources. But with a serious case of tinnitus and a loss of hearing high pitched sounds, I decided to try and enhance my quality of life by seeking a stronger solution to those problems. Jeff has absolutely, and professionally, helped with those ailments. His treatment and relationship with me is professional yet "old school" caring and courteous. Any problem is quickly taken care of. While there is no cure for tinnitus I feel Jeff has given me the best solution for moving forward with minimum discomfort. I can now enjoy my grandkids even more. I highly recommend Jeff and the Glendora Advanced Hearing Aid Center.
Guy Bryant
June 30, 2021.
After visiting Advanced Hearing Aid Center and meeting with Jeff Kim, I knew I was dealing with a true professional. He takes his position very seriously, is current with technology and understands all the products available in the market. He's a sommelier in the hearing business if you will and pairs your hearing needs with the right hearing aids. Extremely impressed with every interaction with Jeff and would recommend Advanced Hearing Aid Center in Glendora to anyone that requires assistance with any hearing issues.
Imran Ali Khan
May 19, 2021.
This is an excellent hearing aid center - the office is friendly and professional. I had the pleasure of seeing Jeff Kim HIS at the Advanced Hearing Aid Center, and he is great! Both of my hearing aids (ReSound LiNX Quattro) went through the tests and he explained everything that was going on. I felt at ease and I knew I was in good hands. If you are thinking about getting your hearing aids test or believe you are suffering from hearing loss, you should definitely give Jeff Kim a call. 👂🏼 #AdvancedHAC #CheckYourHearing #HearWellStayVital #ReSound
Joseph Tanous
April 28, 2021.
I had contacted Jeff in need of some hearing aid maintenance and hearing tests performed as it was years since seeing an audiologist. Jeff was extremely helpful, knowledgeable, and accommodating with all of my needs. It is hard nowadays to find an audiologist who is up to date on all there is to know and that has multiple resources under their belt, I was extremely satisfied with my visit that Jeff and Advanced Hearing Glendora will now be my go to spot for all audiology and hearing aid needs!
gary lewis
March 26, 2021.
While searching for a hearing aid specialist I chose Advanced Hearing Aid Center do to fact they didn't have a 2 week waiting list. Jeff has got to be the greatest person I have ever dealt with in the medical care profession. Not only is he extremely knowledgeable in his field, he takes his time and really makes you feel that your hearing is as important to him as it is to you. If you need hearing aids Jeff is the one to see!
Deb Legarra
March 19, 2021.
I have been going to Advance Hearing Aid Center in Glendora for several years. I have found Jeff to be very helpful in getting the right type of hearing aid when I needed my old one replaced. He explained in detail how the new one worked compared to the old one. I have been impressed by his level of service. I highly recommend him. Note: This is Richard Legarra and I don't know why it comes up with my wife's name. I cannot change it.
Paula Jean Mojarro
March 17, 2021.
My husband has been a patient of Dr. Kim's for over a year now and we have the highest regard for Dr. Kim and the Advanced Hearing Aid Center. He has always treated my husband with great care and compassion and has always guided us in the right area where my husband's hearing is concerned. We have been to other hearing centers in the past and were not satisfied. We highly recommend Dr Kim - Advance Hearing Aid Center
Kate Patton
October 25, 2019.
I love coming here to see Jeff, he TRULY cares about each patient and goes above and beyond to make sure each patient has the best experience and hearing outcome! I have referred numerous people to Jeff and they say the same thing. If you want a TRUE PROFESSIONAL who cares you've found the right place for your hearing aid needs.