Did you know that hearing loss and dementia are connected?
Did you know that hearing loss and dementia are connected? Research shows that hearing loss can be a factor that increases the risk of developing conditions like dementia and Alzheimer's. Studies reveal that people with hearing loss can be twice as likely to experience cognitive decline.
Dementia is an umbrella term that encompasses a range of medical conditions characterized by cognitive decline. This includes Lewy Body, Parkinson's, Huntington's, and vascular dementia. The most common type is Alzheimer's which accounts for up to 70% of the dementia people experience today. According to the Alzheimer's Association, 6.2 million people in the U.S. live with Alzheimer's disease. This is expected to more than double, reaching 12.7 million people by 2050.
There are no cures for dementia, which is why there is significant emphasis placed on prevention. Extensive research shows that hearing loss can be a risk factor for cognitive decline and that treating hearing loss is a useful way to protect hearing and brain health.
Link Between Hearing Loss & Dementia
Numerous studies reveal a correlation between hearing loss and cognitive decline. A significant
study
that examines this link was conducted by researchers at
Brigham and Women's Hospital and Harvard Medical School.
Researchers evaluated the hearing and cognitive capacities of over 10,000 people, ages 62 and older, over 8 years. Key findings include that cognitive decline among those with impaired hearing was: 
30% higher among people with mild hearing loss 

42% higher among people with moderate hearing loss 

54% higher among people with severe hearing loss
This data highlights that people with severe hearing loss were more than twice as likely to develop cognitive decline. These findings show a major correlation between hearing loss and cognitive decline. This supports extensive research that identifies hearing loss as a risk factor that can impact brain health.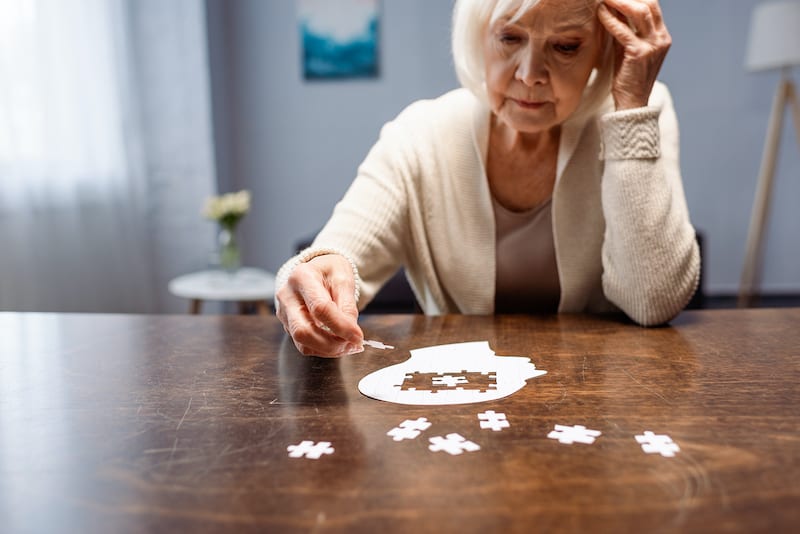 Impact of Hearing Loss on the Brain
Hearing involves both the ears and the brain. There are areas of the brain that manage processing auditory information and assigning meaning to the sound signals we hear. So when hearing loss is present, these areas of the brain are impacted too. Experts suggest that the brain can be affected in specific ways that can lead to cognitive decline. This includes:
These effects can take a toll on brain health and contribute to cognitive decline. Fortunately, treating hearing loss can prevent these outcomes and strengthen brain health.
Treating Hearing Loss Supports Brain Health
Treating hearing loss offers numerous benefits that transform health and quality of life. One major benefit is improving brain health and reducing the risk of dementia. Hearing aids - the most common treatment for hearing loss - are electronic devices that provide the ears and brain with significant support. This support makes it easier to hear and process speech as well as sound which studies show, can strengthen cognitive functions:
University of Melbourne Study:

researchers evaluated the impact of hearing aids on the brain by assessing the hearing and cognitive capacities of nearly 100 people (ages 62-82), before and after the use of hearing aids. Researchers found that:  

"97% of participants showed either clinically significant improvement or stability in executive function (mental ability to plan, organize information and initiate tasks)". 

Study Published in the Journal of American Geriatrics Society

: researchers conducted memory tests on over 2,000 people and found that wearing hearing aids increased test scores.
Steven Lopez
November 5, 2021.
I had been able to obtain hearing aids from other resources. But with a serious case of tinnitus and a loss of hearing high pitched sounds, I decided to try and enhance my quality of life by seeking a stronger solution to those problems. Jeff has absolutely, and professionally, helped with those ailments. His treatment and relationship with me is professional yet "old school" caring and courteous. Any problem is quickly taken care of. While there is no cure for tinnitus I feel Jeff has given me the best solution for moving forward with minimum discomfort. I can now enjoy my grandkids even more. I highly recommend Jeff and the Glendora Advanced Hearing Aid Center.
Guy Bryant
June 30, 2021.
After visiting Advanced Hearing Aid Center and meeting with Jeff Kim, I knew I was dealing with a true professional. He takes his position very seriously, is current with technology and understands all the products available in the market. He's a sommelier in the hearing business if you will and pairs your hearing needs with the right hearing aids. Extremely impressed with every interaction with Jeff and would recommend Advanced Hearing Aid Center in Glendora to anyone that requires assistance with any hearing issues.
Imran Ali Khan
May 19, 2021.
This is an excellent hearing aid center - the office is friendly and professional. I had the pleasure of seeing Jeff Kim HIS at the Advanced Hearing Aid Center, and he is great! Both of my hearing aids (ReSound LiNX Quattro) went through the tests and he explained everything that was going on. I felt at ease and I knew I was in good hands. If you are thinking about getting your hearing aids test or believe you are suffering from hearing loss, you should definitely give Jeff Kim a call. 👂🏼 #AdvancedHAC #CheckYourHearing #HearWellStayVital #ReSound
Joseph Tanous
April 28, 2021.
I had contacted Jeff in need of some hearing aid maintenance and hearing tests performed as it was years since seeing an audiologist. Jeff was extremely helpful, knowledgeable, and accommodating with all of my needs. It is hard nowadays to find an audiologist who is up to date on all there is to know and that has multiple resources under their belt, I was extremely satisfied with my visit that Jeff and Advanced Hearing Glendora will now be my go to spot for all audiology and hearing aid needs!
gary lewis
March 26, 2021.
While searching for a hearing aid specialist I chose Advanced Hearing Aid Center do to fact they didn't have a 2 week waiting list. Jeff has got to be the greatest person I have ever dealt with in the medical care profession. Not only is he extremely knowledgeable in his field, he takes his time and really makes you feel that your hearing is as important to him as it is to you. If you need hearing aids Jeff is the one to see!
Deb Legarra
March 19, 2021.
I have been going to Advance Hearing Aid Center in Glendora for several years. I have found Jeff to be very helpful in getting the right type of hearing aid when I needed my old one replaced. He explained in detail how the new one worked compared to the old one. I have been impressed by his level of service. I highly recommend him. Note: This is Richard Legarra and I don't know why it comes up with my wife's name. I cannot change it.
Paula Jean Mojarro
March 17, 2021.
My husband has been a patient of Dr. Kim's for over a year now and we have the highest regard for Dr. Kim and the Advanced Hearing Aid Center. He has always treated my husband with great care and compassion and has always guided us in the right area where my husband's hearing is concerned. We have been to other hearing centers in the past and were not satisfied. We highly recommend Dr Kim - Advance Hearing Aid Center
Kate Patton
October 25, 2019.
I love coming here to see Jeff, he TRULY cares about each patient and goes above and beyond to make sure each patient has the best experience and hearing outcome! I have referred numerous people to Jeff and they say the same thing. If you want a TRUE PROFESSIONAL who cares you've found the right place for your hearing aid needs.